Farmers in Western Australia are invited to donate grain to help build the world's largest tractor sculpture.
Key points:
Fundraising is underway to build the world's largest tractor sculpture in Carnamah, WA
Organizers ask local farmers to donate grain to the project, which has already received $ 250,000
The tractor will stand 11.5 meters tall and weigh 37 tons of steel – large enough to drive a 4×4 under the chassis
Over $ 250,000 has already been raised for the Carnamah Big Tractor project in Mid West WA, with organizers hoping the massive steel sculpture will become one of Australia's biggest 'big things'.
"The monster tractor will be 11.5 meters high, 16 meters long and 8.5 meters wide, so it will be visible 2 kilometers outside of town," said Hal Walton, Carnamah tractor collector and sponsor of the project.
The Carnamah Historical Society has opened a donation number for growers with the WA Bulk Grain Handling Cooperative, CBH, for farmers to support the project.
The CBH recorded a record harvest tonnage this week across the WAW grain region, and there is still a lot to harvest at high prices.
"The original tractor was used to clear much of the WA wheat belt," Mr. Walton said.
"It will be a gigantic recognition when it is seen, remembered and recognized by all who travel."
WA's own tractor
The Big Tractor sculpture will be five times the size of the tractor it is based on – the Chamberlain 40-KA, the first tractor made locally in Western Australia and developed in 1949.
Tens of thousands of tractors were built at Welshpool in the middle of the last century.
In the 1980s, the Chamberlain company was taken over by John Deere, replacing the iconic orange on tractors with green paint and ending Australian manufacture in 1987.
"The Chamberlain has been instrumental in opening up vast tracts of farmland in both Western Australia and Australia," said Big Tractor Project Chairman Brendan Haeusler.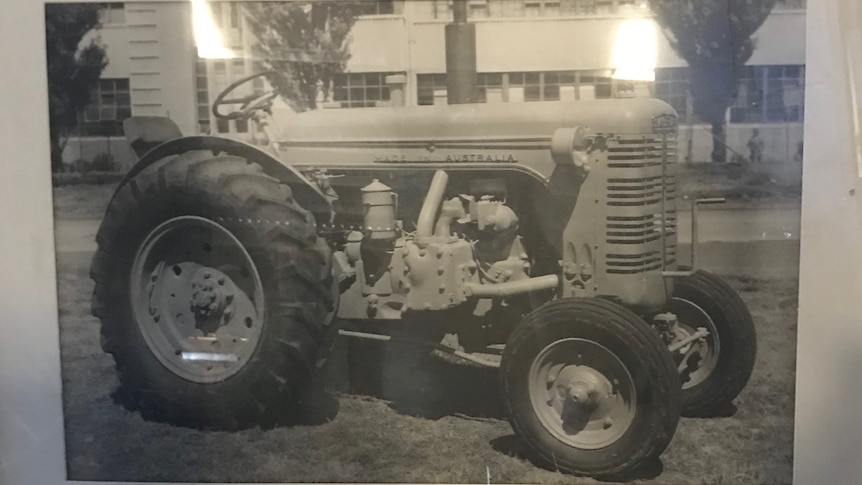 A record holder?
The proposed sculpture will weigh 37 tonnes and will be constructed of pure steel, including the 7.3 meter high tires.
"Based on my research, no other tractor has been built at this size," Mr. Walton said.
Bob Lukins, founder of the Tracmach Vintage Tractor Collectors Association, came up with the idea for a large tractor two decades ago.
Five years ago, Tracmach management began to seriously discuss the scale and logistics of a Big Tractor project for WA.
"People said it was too big," said Tracmach chairman John Piavanini.
When built, it will be one of Australia's iconic biggest 'big things', though it will still be much lighter than the 97-ton concrete Big Merino in Goulburn, NSW.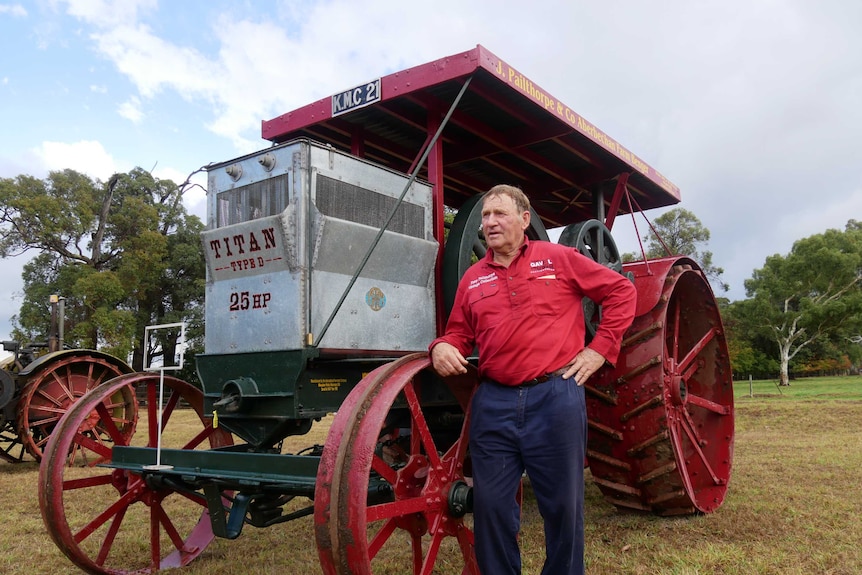 Pay the bill
The Big Tractor is estimated at $ 1.1 million, the majority of which the project team hopes to receive grants from states and local governments.
"We are quietly confident," Paganini said of the pending grant applications.
Once funded, Walton estimated construction would take between 12 and 14 weeks.
"We have $ 250,000 and our goal is to reach $ 330,000 [through CBH grain donations]. "