Local student artists display their talents at the MacNider Art Museum.
The 38th Annual School Art Exhibition is currently on display at the Mason City Museum. The theme of the show is "Return to Art" and features 63 selected pieces from eight different schools. The exhibition runs from February 18 to April 9.
According to the museum's website, this year's exhibit features works by high school students in Belmond-Klemme, Central Springs, Forest City, Hampton-Dumont, Mason City, Newman Catholic, West Fork and West Hancock.
"It's really nice to see the talent," said Mara Linskey-Deegan, Associate Curator and Registrar. "You can see where some of these people go into art as a profession. I think it's something you can see where they definitely start building their portfolios."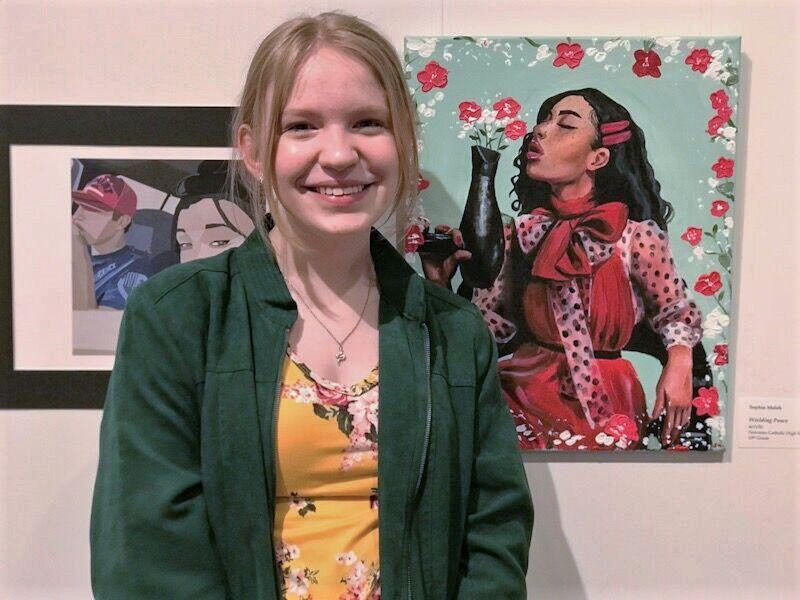 Local student artists display their talents at the MacNider Art Museum. Learn more about a piece by Sophie Malek from Newman Catholic.
Linskey-Deegan said she enjoyed the variety seen in this year's show, especially with the subject matter and artistic medium. She added that all artists can use the show as part of their resume.
"To see that's still in school and I think that resonates, especially with young kids thinking when I get to high school," Linskey-Deegan said.
Self-Portrait of Isabel Sanchez-Garnett
Isabel Sanchez-Garnett, a senior at Mason City High School, is one of 63 artists who submitted work. His piece is an acrylic self-portrait done in a monochromatic color palette.
"I just asked my sister to take a picture of me outside because I really don't have a lot of pictures," Sanchez-Garnett said.
Sanchez-Garnett considered painting in a purple or green color palette, but ultimately settled on blue. She said she did the painting while on a freelance study with a mission to create a monochrome portrait. She added that she had never painted a person before this piece.
"The hair and the background (was the biggest challenge) because it took me forever to figure out how I wanted to get the color and the grain of the wood," Sanchez-Garnett said. "I had to do the base color first, then I would go with a wavy line, then I would go with a gloss medium."
According to Sanchez-Garnett, it took more than 50 hours to work on the painting, adding that she lost the passion to work on it halfway through, but was glad she continued.
Sanchez-Garnett said she wanted to paint a more serious facial expression with the piece. She said one obstacle she had to overcome was looking at her own face.
"It was weird staring at myself for hours and wanting to do a close-up," Sanchez-Garnett said. "It made me self-aware, but I'm glad I did."
Sanchez-Garnett is already starting work on her next acrylic piece – a full body painting of a friend. The current process with this piece is only foot and half done, says Sanchez-Garnett.
She will attend North Iowa Area Community College (NIACC) after graduating from high school. Sanchez-Garnett hopes to find a way to combine two things she loves: art and math.
"I definitely want to do something with art. I haven't really figured out what major I want to do yet," Sanchez-Garnett said. "Maybe something along the lines of interior design, architecture and things like that."
COMMUNITY JOURNALISM ISSUES: Support it
Abby covers education and entertainment for the Globe Gazette. Follow her on Twitter at @MkayAbby. Email her at [email protected]