In a city full of dynamic exhibition spaces, it is reductive to call one of them the best. But if I made a list of must-see local arts spaces, Channel to Channel would be on top. So it's sad that painter Kayla Rumpp's current Channel to Channel exhibit is her last in Nashville – the gallery moved from The Packing Plant to a new space in Chattanooga.
Channel to Channel began as founder Dustin Hedrick's painting studio in the May Hosiery Mill building in 2011. The gallery's series of exhibitions helped define and cement Wedgewood-Houston's rise to the center of the The city's contemporary art scene in the 2010s. Rumpp's iconic sculpture-paintings are emblematic of the gallery's excellent abstract painting and sculpture lineup, and it's a prime example of the type of exhibition that embraces both mediums at the same time.
Soma is the psychoactive ritual drink described as an extraction of a plant unknown in Vedic tradition. It's also the name of the happiness pill in Aldous Huxley's dystopian novel. Brave New World. Somewhere between immaculate high and psycho-pharmacological enslavement, we find the exquisitely soft chromatic surfaces of Rumpp decorating curved constructions of wood and polyurethane panels. The pure formalism of Rumpp Soma The exhibition is gripping and the artist's provocation by pushing and pulling in Venn's overlap between sculpture and painting is precisely balanced to delight. Rumpp is currently pursuing a Masters of Fine Arts program at the University of Iowa, but she obtained her undergraduate and Masters degrees in Arts Education at the University of Tennessee. As the last Channel to Channel artist at The Packing Plant, Rumpp reminds us that one of the gallery's main accomplishments has been to facilitate creative cross-pollination between Nashville and Marble City.
"Fina" measures approximately 2 square feet and is shaped like a cartoon cloud. Rupp minimally decorates it with a pink outline framing successive vertical bands of blue going from midnight to powder, reading the work from left to right. "Echelon" offers just the opposite – a square image plane with a wavy shape cut from the center, which leaves a cartoonish hole where art once was. The hole is underlined with lavender on a background of purple Joker. Hedrick has always had an eye for artists who do smart, insightful work that is also – and crucially – formally engaging. I have described other exhibits in space as examples of "smart fun" and Rumpp's work is typical of Channel to Channel's contemporary art programming which is as eye-catching as it is emotional and thought-provoking.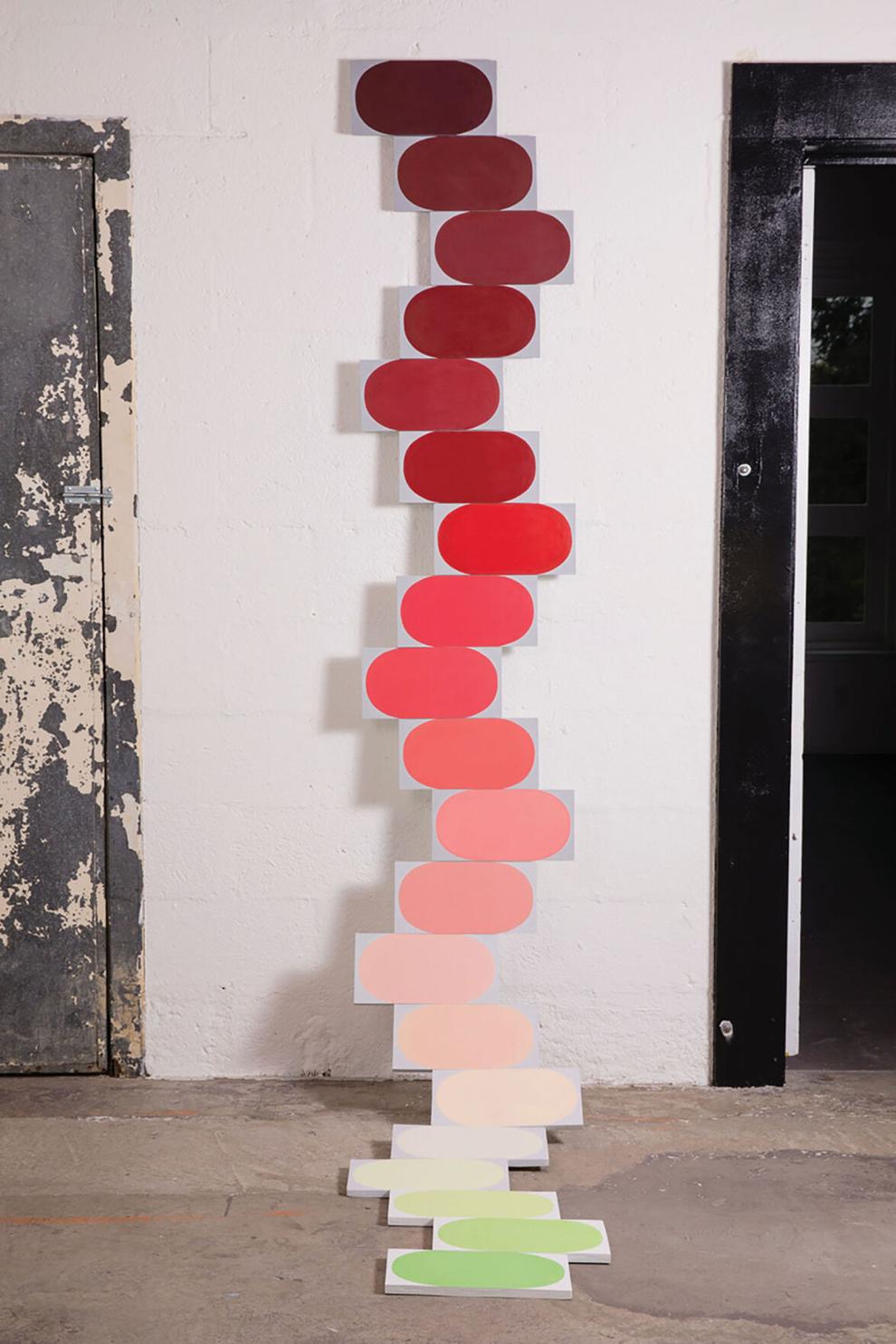 "Gynoid" is the most sculptural piece in the series. This collection of painted wood slats leans into a corner of the gallery, forming a dress-like shape radiating from a cinched waist. The title refers to the layer of fat at the hips, and Rumpp gives viewers a harsh linear male form to evoke voluptuous femininity. It's an elegant sculpture, but it conveys sexy messages to those who have the ears to hear it. "Xenia" is another ingenious exploration of the pasty border between painting and sculpture. Here, Rumpp offers viewers a colorful array of painted rectangles that are stacked to create a totemic shape. The individual rectangles meet the expectations of traditional painting on canvases or four-corner panels, but simply by stacking them together, Rumpp completely recontextualizes them into a sculptural space.
Soma evokes both entheogenic release and chemical control. Painting and sculpture are not at such divergent extremes, but there is a whole spectrum of expression between creating images and creating objects. Rumpp reminds us of the materiality of paintings, but also of the imaginary possibilities of sculpture. Her work highlights how space – and the lack of it – articulates in both mediums through textures and tones, and she manages to center all of those heady, heavy things while using candy colors and a cartoon aesthetic.
See Soma before Channel to Channel closes its last show in Nashville – the exhibit will be available by appointment until December 27.